You are one step away from smarter working giving you a great work life balance by using the ultimate in L&D technology.
So how could you and your business benefit from SPICE Framework new and unique L&D Digital TOOLS?
To explain, the tools have been expertly developed specifically for ongoing changing and challenging times, giving you the latest in hybrid digital technology. Our L&D digitalised web enabled tools enable any business to connect people to performance anywhere and anytime.
For example, if you and your business need to –
Develop your people performance

Train, track and monitor your people

Connect your people from anywhere at anytime
…then you need SPICE Frameworks' new digital, L&D and web enabled tools.
By using our specially created unique set of tools, you will be able  to manage all your development and training needs in one place with our digital "Workspace" facility. You will have access to all of the L&D tools to enable you to easily
Set up your team
Upload documents or videos
Set tasks and development plans
Log individuals achievements
Track and assess your team
Join the forum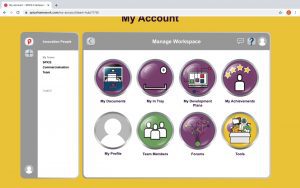 Whats more, all of this can be done on any web enabled device. You can use your Workspace Tools where ever you working from, giving you a new and hybrid level of people development, allowing smarter working and allowing you a better work life balance.
To give you an idea, click the link below.
https://www.spiceframework.com/product-category/spice-applications
Another critical and perhaps the most important reason to use SPICE Tools, is that your team with love what we have created too. They can login at their convenience, using their device of choice to access their Workspace and utilise the tools for learning, development and connecting with their team.
We'd love to hear from you. Contact us through the link below –
https://www.spiceframework.com
or email our MD, Michael Croft directly
michael@innovationpeople.co.uk
Written by Maggie Hebdon
May 20, 2021